How to download torrent files with Internet Download Manager
Yes!you heard it right you can download torrent files with idm or any other download mangers.Today i am gonna show you how to download torrent files with any download manager.Actually if you know how torrent work it seems impossible to believe that torrent files can be downloaded using download mangers but it is possible now.So guys follow the steps below and download the torrent files of your choice with download managers.Here we go....
Various methods to download torrent files via download mangers :-
>Visit Bitport and create new account,also verify your email
>Copy magnet link from torrent site and paste on Bitport site
>Bitport will take a few seconds and upload the file to its servers
>When the chaching process is finished,you will get a direct download link
>Now you can download the file with idm or any other download manger.
>First, visit
Filestream
and sign up using your Email id. Here are some Premium Coupon codes that you can use while signup and get 1 Day Premium facility for free. Premium Codes:
snr6njhcyo, kqeo2en1tb,7k2jf507su
>Verify your Email Address by clicking the confirmation link sent to your Email Inbox
>Now you are ready to download any torrent files.You can get torrent files from different torrent sites sites and Copy magnet link of the torrent files you want to download like below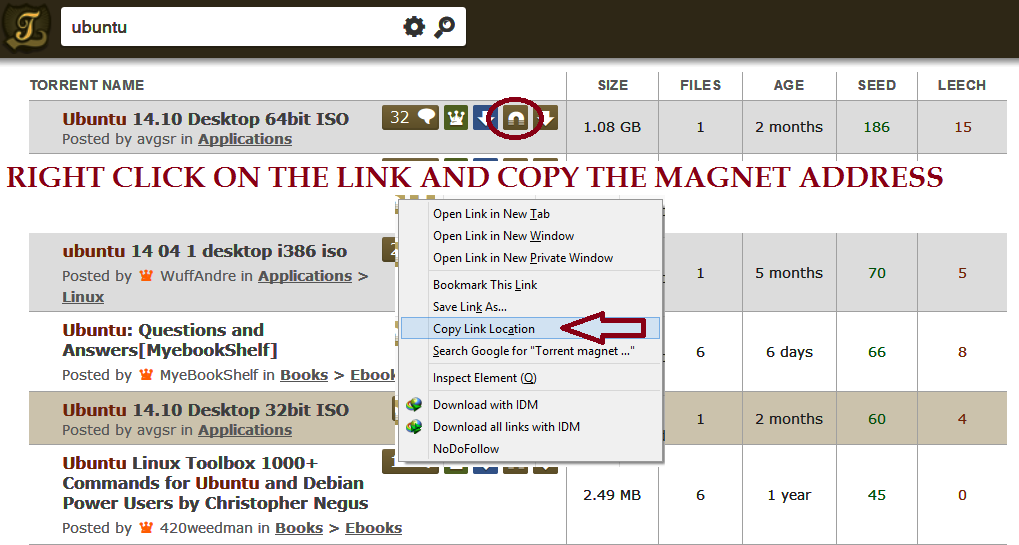 >Now paste this magnet link to your Filestream dashboard
>Click on the Download Button and IDM will start downloading the files from torrent to filestream server.
>You can also upload torrent files which has a file extension
.torrent
>Now please wait 2-3 minutes. You will get your torrent files on your Filestream dashboard by now. After the caching process is complete you will get options to download the file. Click on the Download button that appears right to your filename. If the download does not start then right click on the download link and copy the download link. Open IDM and paste the download link. If you download torrent frequently then use Filestream premium subscription to get your file cached very fast. Usually Free users get less priority. So though you will get faster speed while downloading torrent using Filestream the premium accounts get the top priority